Walking through Casa Panoramic, you will find several pieces of artwork on display.  Each room has something special.  During your stay, please feel free to walk around and take a look at the artwork on the walls, or ask us about the house in general or the items found in the house and their history.  We will be glad to tell you the fun and interesting tidbits.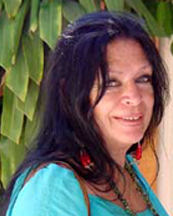 MARTA GILBERT
Marta Gilbert, born in Bentonville, Arkansas, started drawing when she was just three years old. Marta says, according to her mother, her first pictures were of upside down horses' heads. Having the mind of an artist, her mother motivated her to pursue a career as a concert pianist, for which she studied until her early twenties. She also studied violin and drums, but Marta's heart is with her paints. Her paternal aunt encouraged her painting and gave Marta her first set of oils when she was eight….
(click to read on about Marta…)
She sold her first piece when she was a teenager, a painting of a native Tarahumara woman who lived in Chichauhua. Although her art is essentially self-taught, her talent was advanced during three years of study at the Famous Artists School in Wesport, Connecticut.
Besides acrylic, she uses her vast talents in oil, clay spirit masks and painting on indigenous ceremonial drums as well as drawings in pencil, charcoal, pen and ink.
Whether depicting the sentiment of the Huichol, Chiapas, Zapatas, or the emotion of warriors or the vitality of a famous bandita, Marta translates their nature with perfection. Like the artist herself her paintings reflect spirituality, honour, and mystique. Gilbert creates works that interpret the strength, energy and dignity of these noble people. She paints Native Americans because their blood runs in her veins (Osage and Cherokee), and she feels a direct connection with them. "My soul is Indian" Marta states. Her world is populated by stunning men and women with dark, perfect skin and along, shiny, black hair. "My rendition may be romantic but the fact is that I find Indian faces extremely beautiful the bone structure, the color…." Yet there is also a touch of sadness to the beautiful faces she paints, as if generations of cultural suffocation are being projected.
Gilbert is perhaps Puerto Vallarta's best known visual artist, an internationally celebrated painter known for her piercing portraits of indigenous people, soulful portrayals of the native people who live closest to the land both in reality and her dreams. The landscapes her characters occupy are as important as their visages – adobe villages, beaches, dry gulches, mountain plateaus, fertile fields and green valleys. The mountainside jungles and wave-fringed ocean shores of Puerto Vallarta have been Marta Gilbert's landscape since 1971; she has witnessed the metamorphosis of Puerto Vallarta from a quiet seaside village to traffic congested city in just these short years.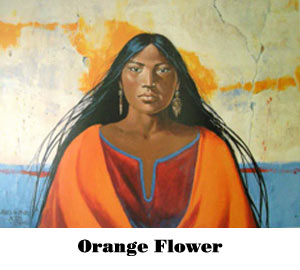 Gilbert's award winning paintings have been exhibited in over 40 solo-exhibits and she has participated in over 115 collective exhibitions. Well known for over 300 commissioned works, her works hang in collections world wide. Some collections are displayed in galleries in San Miguel, Arizona, Utah, Nevada, Paris and Puerto Vallarta.
The Print of Marta's that is in our possession hangs in the Mujeres Azules suite and is entitled 'Orange Flower'.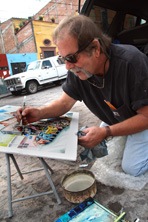 Mike Kleimo
Mike, who has reached his distinguished late 60's, lives and paints in both Seattle, Washington and San Miguel de Allende, Mexico. Kleimo came to his painting career by a circuitous path. He graduated with a Bachelor of Fine Arts degree in advertising art and design from California College of Arts and Crafts in Oakland and worked in a cabinet shop and as a carpenter. After which Kleimo laboured as a deckhand in Alaskan waters on crab and salmon net boats and fished for herring in northern California …
(click to continue reading about Mike…)
In Alaska he was also a welder on oil rigs in the Cook Inlet and a teamster on the Alyeska pipeline project. Next, Kleimo was a labour foreman, operating engineer and drilling superintendent for high rise foundations and bridges in the Puget Sound area. In Seattle and San Francisco, Mike worked as a graphic designer, technical illustrator, art director, and owned an advertising agency. This diverse background can be seen in the varied subjects and locations featured in Kleimo's watercolours. Although Mexico in general and San Miguel de Allende in particular have become major focuses during these last years, images from Paris, California, Alaska and Washington State are still produced by this capable artist and the subjects range from people and beasts to villages and ruins of colonial churches.
The artist also seems to have two different styles of painting, one being a representational approach that combines a feeling of impressionism with the hint of an architectural rendering. A good example of this is 'Guanajuato Campo Church' a colourful country scene with an old church as the main focus. Mike's other main style of painting could be considered work that comes closer to magical realism. For instance, his painting entitled 'El Bailar Con Catrina' portrays a man dancing with a lady skeleton wearing high heeled shoes and a dress.
Casa Panorámica has a variety of Kleimo's paintings distributed throughout.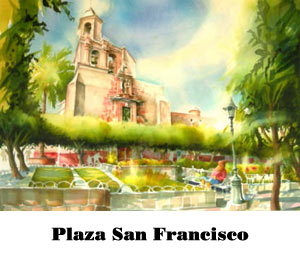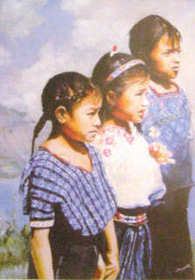 ROMAN MAZUREK
The artist was born in Malbork, Poland in 1957. He is self taught, with a natural born talent for precise drawing, and has been practicing his art since 1979. Mazurek first dedicated himself to monochromatic art and later explored the possibilities of colours. In 1994 he studied in the workshop of Professor Lobuckov at the Academy of Bellas Artes in Kiev, Ukraine..
(click to read on about Mazurek…)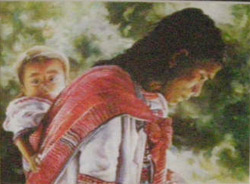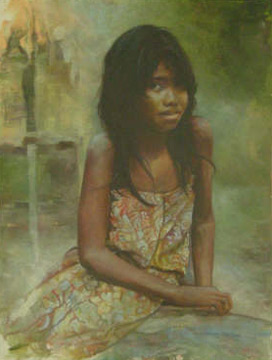 In Poland he has had expositions in Varsovia in 1985 and 1995, Gdansk in 1989, Usika in 1990 where he won first prize, Slupsk in 1990 and 1994, Malbork in 1992 (also won first prize), Poznañ in 1992 and Zakopane in 1993 and 1995.
Mazurek has traveled and painted in a number of countries such as Guatemala, Honduras, Mexico, Egypt and countries in Southeast Asia. His works have been exhibited in Stockholm, Switzerland and Guatemala, as well as in Urupan, Mexico.
He recently participated in Galería Vallarta's show, "Indigenous Insights", in Puerto Vallarta. Roman Mazurek is presented oils and finely detailed sketches, as well as prints of his works which he created during his travels in Guatemala and Mexico.
A number of Mazureks' works grace Casa Panorámica's hallways as well as the Mujeres Azules suite.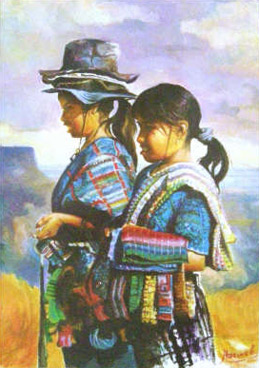 PATRICK DENOUN
Patrick Denoun was born in Paris in 1950. He began painting at the age of eight, at 15 he entered a preparatory academy located in the well-known Quartier Latin. At 17 he was one of 160 candidates from over 3000 applicants to gain admittance to the famous French art school Boulle, where he studied many art mediums and went on to earn a degree in wood sculpting…
(click to read on about Denoun…)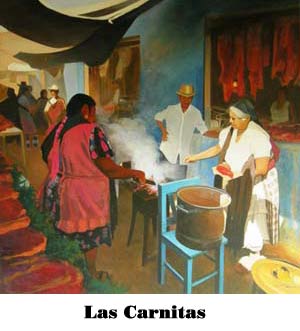 After working as a sculptor for a few years, Denoun decided to return to his inks and paints. He states that, "It has always been important to me as an artist, to express myself with my hands, whether it is sculpture, woodworking, ink drawings or painting". At about this time he also relocated to Saint Tropez where he began selling his work in art shows and decided to travel to see what the world had to offer.
Denoun could tell stories of his travels in India, Thailand, Bali, Morocco and North Africa; of driving motorcycles through the Sahara Desert. Of the United States where he traveled through New Orleans and Florida and where he remembers buying a Cadillac in Alabama. He painted unceasingly even in those early days and sold his work out of the trunk of the Caddy. In 1976 his travels brought him on an extended journey to Mexico, where he would find him self returning until 1985 when he finally moved to Puerto Vallarta to live and work.
From his travels Patrick gained much of his inspiration. He painted what he called the "many similarities" of the "natural world" such as the "likeness in lifestyles, the textures of adobe walls, spicy food and skylights." He was inspired by the "natural and simple things of life" that he discovered on his journeys. For instance, women spinning the wool from sheep and transforming it into colourful carpets, or native peoples shaping clay pots by hand from the black soil. Villagers high in the mountains, indigenous peoples coming to the markets to sell their fruits, and "people who touch the earth" were said to motivate him. He once stated, "People are the reason I love Mexico, they are so nice, so friendly." Denoun says he "prefers to express himself with the 'Eden' we have on earth to protect that life, the trees, the plants, the people."
For more than 20 years Puerto Vallarta was fortunate to have Patrick Denoun as a resident artist. Originally from France, but more a citizen of the world, Patrick provided us with art that was continually evolving and always fascinating. Denoun was not one to be complacent and just paint what he knew would sell, he was a man consumed by fresh ideas crying out to be expressed.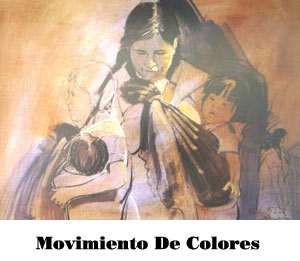 The variety of his output over the years was amazing; his art never remained long with one style. He was always experimenting to come up with something new that would transcend where his mind set had been at previously. One season could be full of bright colours of market scenes of Mexico, whereas the next could be of black-and-white nudes; Patrick was never limited by a lack of ideas of expression.
For Patrick, an exhibition was an opportunity to show the world what he had most recently discovered. He never painted for us, his audience; he painted to release his endless stream of artistic energy. Fortunately for us all, we still have his art to remember him by.
The series of Mexican market scenes that graces the dining room of Casa Panorámica was first shown at an exhibition at Galería Pacifico in Puerto Vallarta, and the prints nearly sold out the first day. The breathtaking 'Las Carnitas' is our only original painting of Denoun's and it hangs above the couch in the main living room.
Patrick Denoun passed away in a motorcycle accident near his Vallarta home on April 8, 2007. He is survived by his wife, Cathy, and his two children Max and Sasha.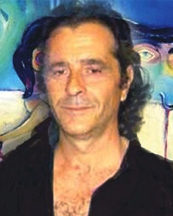 Manuel Adriá
Born in Barcelona, Spain at the end of the 50's, it was there that he commenced his artistic career. At one time he collaborated with the legendary artist Salvador Dali. One marvels at the diversity of his canvases, with Cubist and Expressionism influences melded with his own unique vision. Since 1985 he has been, and continues to be, an influence on the local artistic community, a non-compromising vanguard of post-Romanticism.
(click to read on about Adriá…)
There is an exponent of postmodernism in his commitment to rigorous innovation, and defending hybridization. Adriá's work is marked by the deliberate textualized look of his creations often expressed through a personal iconography and with fragmentations and compositions juxtaposed. His style is also seen in the deconstruction and reconstruction of the pictorial field, both in forming the image and on the resources used in the process.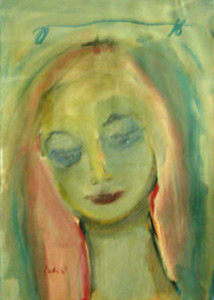 A sample of Adriá's work is available in Galería UNO in Puerto Vallarta. It is an exhibition which refers to the rebirth of everyday brilliance and magnetism exercised by the conjunction of mysterious and unique situations. Here characters emerge disrupted by a process of metamorphosis, either moving, flying, rolling or simply walking by a casual scenario or a misleading horizontal staircase leading to nowhere. This magical cocktail creates an apparent sense of centrifugal movement that suddenly becomes paralyzed to provoke a fortunate encounter of the viewer and a vibrant, full life.
The work of Manuel Adriá can be found in local collections and around the world as well as in Casa Panorámica's Mujeres Azules suite. He has also done large murals, both in his native Barcelona, Puerto Vallarta and Mexico City.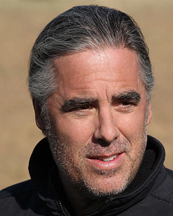 Gregory Colbert
Canadian-born artist Gregory Colbert began his career in Paris making documentary films about social issues. Filmmaking led to his work as a fine arts photographer, and the first public exhibition of his work was held in 1992 at the Musée de l'Elysée in Switzerland. For the next ten years, Colbert showed no films and exhibited none of his art. Instead, he travelled to such places as India, Burma, Sri Lanka, Egypt, Dominica, Ethiopia, Kenya, Tonga, Namibia, Borneo and Antarctica to film and photograph wondrous interactions between human beings and animals…
(click to read on about Colbert…)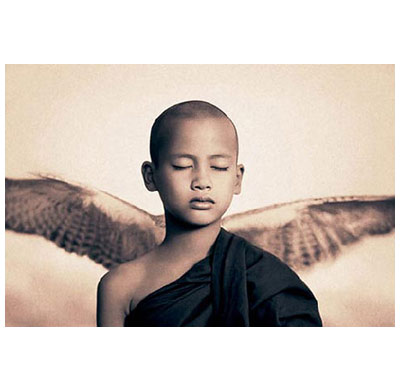 In 2002, he launched the Ashes and Snow exhibition in Italy at the Venice Arsenale, a 125,000-square-foot shipyard owned by the Italian navy. Built in 1104, the Arsenale was originally used to construct and launch boats to sea via the Venetian canals. Ashes and Snow was the largest solo exhibition ever mounted in Italy. The interior architecture of the Arsenale provided an ideal setting for the exhibition, and served as the model for The Nomadic Museum, which debuted with the opening of Ashes and Snow in New York City in March 2005. The museum then travelled to Santa Monica in January 2006, Tokyo in March 2007, and then to Mexico City in April 2008.
Japanese architect Shigeru Ban designed The Nomadic Museum to house the Ashes and Snow exhibition, ensuring that these compelling meditations on man and animals can be seen by a worldwide audience. Made entirely of shipping containers and other recycled or reusable materials, the exposition will travel indefinitely to ports of call with no final destination.
The Ashes and Snow display includes more than 60 large-scale photographic artworks, a one-hour film, two 9-minute film haikus and a novel of letters. None of the images have been digitally collaged or superimposed. They record what the artist himself saw through the lens of his camera. While Colbert uses both still and movie cameras, the images are not stills from the film.
The title Ashes and Snow suggests beauty and renewal, and is referred to in the literary component of the exhibition—a fictional account of a man who, over the course of a yearlong journey, composes 365 letters to his wife. The source of the title is revealed in the 365th letter. Colbert's photographs and one-hour film loosely reference the traveller's encounters and experiences described in the letters.
Colbert, who calls animals "nature's living masterpieces," chose to film animals in their native habitats in an effort to be true to each animal's voice. The film can be viewed as a work of art as well as a poetic field study. The film was edited by two-time Oscar winner Pietro Scalia. It is narrated by Laurence Fishburne (English), and Ken Watanabe (Japanese). Musical collaborators include Michael Brook, David Darling, Heiner Goebbels, Lisa Gerrard, Lukas Foss, Nusrat Fateh Ali Khan, and Djivan Gasparyan.
The photographic artworks of Gregory Colbert explore the poetic sensibilities of animals in their natural habitat as they interact with human beings. He states, "In exploring the shared language and poetic sensibilities of all animals, I am working towards rediscovering the common ground that once existed when people lived in harmony with animals. The images depict a world that is without beginning or end, here or there, past or present." Proving profound patience and an unswerving commitment to the expressive and artistic nature of animals, his 21st-century bestiary includes more than 40 totemic species from around the world. Some species featured include Asian elephants, Sperm whales, Royal eagles, Manatees, Saltwater crocodiles, Samba deer, Ocelots and Kinkajous.
No longer shown as merely a member of the family of man, humans are seen as a member of the family of animals. The animal subjects of the photographs and films include both wild animals and those that have been habituated to human contact. "I hope to see the world through the eyes of a whale, an elephant, a manatee, a meerkat, a cheetah. Being amazed by nature in all its forms is the lifeblood of Ashes and Snow. I have tried to leave the windows and doors open so that others can enter and feel that same amazement that I felt during each work's creation." Says Colbert. These mixed media photographic works marry umber and sepia tones in a distinctive encaustic process on handmade Japanese paper. The artworks, each approximately five feet by eight feet, are mounted without explanatory text so as to encourage an open-ended interaction with the images.
More than 1.5 million people have attended the show since its debut in Venice, Italy. The project has been embraced by both the general public and a critical audience. Gregory Colbert received the 2005 Lucie Award for Curator of the Year for the Ashes and Snow installation at the Nomadic Museum in New York and the 2007 THEA Award for Outstanding Achievement in a Museum or Touring Attraction.
On display in Casa Panorámica we have prints of Colbert's remarkable photographs, glimpses of the masterpiece that is Ashes and Snow.
Some more of Colbert'w work
&nbsp