Casa Panoramica's Bed & Breakfast
Recently refurbished, Casa Panoramica is perfect for that family reunion, corporate retreat or a bunch of friends looking to have a great vacation in Puerto Vallarta. The B & B is split on several levels, with bedrooms 1 and 2 on the main level and bedrooms 3 and 4 on the second level with large wrap-around balconies. All rooms offer panoramic views of the city and bay, are air conditioned and furnished with antique and traditional Mexican pieces. There is also a nice sized pool and a bar area with mini-fridge for our guests to enjoy.
On the fourth level, we have a 2 bedroom 2.5 bath furnished apartment that has its own kitchen and wonderful views to the bay.  (The bedrooms each have either a king size or queen size pillow-top bed and private bathrooms.) Each bedroom can be rented individually as part of the Bed and Breakfast experience, or as a self catering apartment for your enjoyment with its own kitchen that is completely equipped and ready to use.  A short trip to the market and you will be set for the duration of your stay.)
The Casa Panoramica Bed and Breakfast, serves a continental breakfast from 8 to 10 AM. We also provide purified water for each of the guest rooms.  There also is a fully equipped main kitchen should you decide to cook. We can also arrange for a chef to come in and prepare a gourmet meal.
The bed and breakfast is located near the romantic zone of Old Town Puerto Vallarta. We are only a 5 minute walk to Los Muertos beach, which has a variety of beach bars and restaurants. The romantic zone is famous for it's large selection of restaurants, nightlife and dining.
History of Our House
Casa Panorámica, was built in the early 1970's; it is a veritable landmark in this burgeoning paradise. The house is one of the traditional "Puerto Vallarta" styled homes, built by the late architect Guillermo Wulff. The Casa, having been abandoned for over five years and neglected for as many more, underwent a restoration process to make it the comfortable abode it is now.
We invite you to enjoy the beautiful views of the Bay of Banderas from Punta de Mita to Cabo Corrientes. The wide sweeping vista includes such sights as Nuevo Vallarta, the Marina, las Islas Marietas, Viejo Vallarta (Old Town) and our famous Iglesia de la Virgin de Guadalupe. Come to a truly captivating piece of Puerto Vallartan tradition and history preserved for your enjoyment.
A LITTLE ABOUT THE ARCHITECT:
Guillermo Wulff, the architect who built Casa Panorámica in 1971 played a large part in placing Puerto Vallarta "on the map."  Wulff, was a Mexico City engineer who brought the cupula to Vallarta construction, and he instrumental in developing the architectural style of Vallarta.
If not for his invitation to his friend, John Huston, Puerto Vallarta might have remained relatively hidden for many more years. After viewing the land around Mismaloya, belonging to Wulff for 90 years, Mr. Huston was convinced it would be an excellent site for his film The Night of the Iguana. The film, staring Richard Burton, Deborah Kerr and Ava Gardner, brought the paparazzi along with them – which led to the spread of awareness, of the then still relatively small fishing village. In August of 1964, the movie, The Night of the Iguana was released in theaters and was a huge box-office success, which subsequently led to Puerto Vallarta later becoming the home of Richard Burton and Elizabeth Taylor and firmly putting the city on the radar.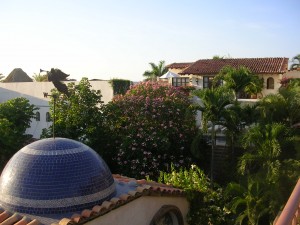 In the mid-1960, Guillermo Wulff's arrival to Puerto Vallarta brings the introduction of the cupula or "dome" as an architectural element in several homes he built in Puerto Vallarta. Today, you will see cupulas adorning many homes, condos, hotels and restaurants, making Vallarta especially picturesque.
&nbsp